:: News In Brief
Apply for your free GROWBox 05.06.20
It is now the time to put your green fingers to the test and try to grow some of your own food. Energia has partnered with not-for-profit social enterprise GIY, to give away 1,000 large GROWBoxes to people across the nation to 'Get Ireland Growing' and help power a more sustainable future. As well as the herb and vegetable seeds, the GROWBox also includes a bag of Irish Wildflower Beebombs which help re-create bee habitats and are vital to help the threatened species survive.
Let's 'Get Ireland Growing', click www.getirelandgrowing.ie to register and enter the draw for your free GROWBox.


Echoes of the Decade History Project 05.06.20
Reach out to your family and become an amateur historian from home.
The Echoes of the Decade Project by Donegal County Museum and Donegal County Archives is running an online history project while Covid 19 restrictions are in place. Let's use this time to share our past. We are looking forward to seeing your stories of Donegal.
To get involved visit the Echoes of the Decades page on Facebook.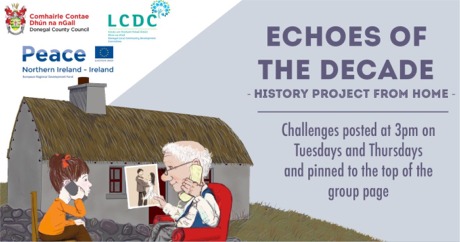 B&B breaks for 'Shining Stars' of Covid-hit communities 05.06.20
B&B Ireland has launched a national competition to reward volunteers who have been the 'Shining Stars' of their communities in lockdown. Three lucky winners will each win a 3-night B&B Activity Break for 2 people.
To enter, just nominate the person you believe has really helped you or your community over the last few months. Fill in a simple nomination form at www.bandbireland.com saying why you think this person deserves an Irish getaway break in a B&B of their choice.

Games and experiments for children at home 04.06.20
Teagasc has developed a range of engaging STEM (Science, Technology, Engineering and Maths) activities and fun games for children currently at home due to the COVID-19 pandemic. Ever wondered about how to make instant ice, water rainbows or extract DNA from a strawberry? Then this online content is for you. For more details, visit www.teagasc.ie .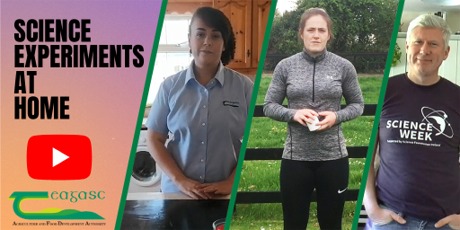 'Let's Talk Poultry' 02.06.20
From gut health to management, poultry experts offer advice and insights in a new, four-part webinar series kicking off June 3.
Ireland's poultry industry will gain industry insights over a four-part webinar series beginning Wednesday, 3 June, at 2pm. Hosted by Teagasc, with support from animal nutrition company, Alltech; prominent topics such as avian influenza, gut health and layer management will be examined.
The webinar series will be hosted on Zoom and is free to join. Participants will have the chance to pose their questions to speakers at the end of each webinar. To register, log on to www.teagasc.ie .
Drawn From Borders is live! 25.05.20
Drawn From Borders is a project led by artists for artists that explores the concept and reality of borders, specifically the border created 100 years ago by The Partition of Ireland.
The project supports the Artlink Members participating in the project to research and develop work collectively and independently. After the lockdown we started to meet online with the view to creating a virtual exhibition of the participants' work. This is in addition to the 'real life' exhibition at Artlink Fort Dunree which has been rescheduled for 2021.
On Thursday, 21st May, the exhibition was be previewed on a Facebook Live event. If you missed it you can re-watch it at www.artlinkonline.ie .
Re-start Grant - Fund to reconnect small businesses 25.05.20
The Re-start Grant will give direct grant aid to micro and small businesses to help them with the costs associated with reopening and re-employing workers following COVID-19 closures.
The grant will be available to businesses with a turnover of less than €5m and employing 50 people or less, which were closed or impacted by at least a 25% reduction in turnover out to 30th June 2020. It is a contribution towards the cost of re-opening or keeping a business operational and re-connecting with employees and customers.
To apply here for your grant visit www.donegalcoco.ie .
Closing date for receipt of applications is 31 August 2020. Please send queries to restartgrant@donegalcoco.ie .
Living with Sight Loss moves online 25.05.20
Sight loss charity Fighting Blindness is adapting their popular face to face confidence building course for visually impaired people living in Donegal. To meet Covid-19 social distancing guidelines, the five week course, Living with Sight Loss, will be delivered online through video conferencing technology this June.
The free course will begin on Tuesday, June 16 and run every Tuesday and Thursday from 2pm to 3.30pm. The course will finish Tuesday, July 16.
According to the most recent statistics, there are over 2,068 people in Donegal who are living with vision impairment or blindness.
The course is delivered through the accessible video conferencing platform Zoom. A telephone dial in option is also available. Places are limited and must be booked in advance by contacting Fighting Blindness on 01 674 6496 or needtotalk@fightingblindness.ie .
For more information about counselling and support services visit www.fightingblindness.ie .
Burst water main in Muff 19.05.20
IRISH Water and Donegal County Council wish to advise customers in Muff that their water supply has been impacted as a result of a burst water main. It is estimated that up to 100 properties may be affected by this unplanned outage in the Drumhaggart and Soppog area.
It is expected that the repairs will be completed by 3.30pm today.
The Irish Water customer care helpline is open 24/7 on 1850 278 278. For updates please see the water supply and services section of their website.
Traffic wardens return to work 18.05.20
DONEGAL County Council traffic wardens will return to work with other outdoor workers today, Monday 18th May, as part of phase 1 of the easing of Covid-19 restrictions.
For an initial transition period, from the 18th of May to the 7th of June, enforcement of Pay and Display offences will remain suspended. During this period traffic wardens will concentrate on the enforcement of road traffic offences i.e. illegal parking on disabled bays, double yellow lines, loading bays and on footpaths.
From the 8th of June it is intended that traffic wardens will return to normal duties, including the enforcement of both Pay and Display and Road Traffic offences.
As a result of the measures introduced to curb the spread of COVID-19, many holders of annual and bi-annual car parking permits were restricted from using these permits. However, the validity period of all current annual and bi-annual car park parking permits has been extended by 8 weeks to compensate for this.

Donegal online Lotto player scoops €90,260 18.05.20
LOTTO players across Donegal are being asked to check their National Lottery accounts and emails this morning as one lucky online player registered in the county has won €90,260 on Saturday night's Lotto draw (16th May).
The winner matched five numbers and the bonus number, meaning they were one number short of winning the €2,447,059 top prize. There was no winner of the jackpot, which now rolls over to an estimated €2.8 million for the next draw on Wednesday 20th May.
The winning numbers from Saturday night's Lotto draw are: 23, 28, 33, 34, 41, 45 and the bonus number is 39.
Food Industry Development webinar 18.05.20
TEAGASC are starting a series of food industry development webinars, commencing tomorrow, Tuesday 19th May, at 9.30am.
The series will open with a discussion on 'New Food Product Development' hosted by Teagasc specialists, Carol Griffin and Eddie O'Neill, Teagasc followed by a question and answer session.
Head of the Food Industry Development Department in Teagasc, Ciara McDonagh said: "This webinar is the start of a series that we will be delivering alongside virtual training courses, over the coming months. We would welcome participation from our existing food industry clients or anyone who has an interest in food innovation and the development of new food products."
The webinars are broadcast using zoom. Participants can ask questions live and participate in the discussion.
Visit www.teagasc.ie to register for the event.

Bord na Móna fire risk warning 18.05.20
BORD na Móna would like to remind everyone that at this time of the year the countryside is exposed to a higher risk of fire. Fire puts the lives of the people who have to fight them at risk, as well as causing major damage to property, wildlife and habitats. We are aware that there has been an increase in unauthorised use of bogs by people using scrambler and quad bikes. Heat from the exhausts of these vehicles can set dry scrub alight and has been the likely cause of a number of recent bog fires.
Bord na Móna and the Fire Service reminds the public that it is illegal to set fires in growing vegetation between March 1st and August 28th. During the current health emergency people should be especially aware that these fires are an additional cause of stress and worry for homeowners and a drain on the resources of our emergency services.

Covid-19: Business Financial Planning Grant 16.05.20
As part of the Covid-19 Business Response recently announced by the Government, Enterprise Ireland has announced that it will administer a Business Financial Planning Grant to specifically support domestic focused companies as well as a Sustaining Enterprise Fund for small enterprises.
Worth up to €5,000, the Business Financial Planning Grant will assist companies to develop a Business Sustainment Plan and to engage the services of an approved Financial Consultant when applying for funding. By having a financial plan in place, a business will be better positioned to understand its immediate financial position, manage costs and identify the finance it requires.
Additional supports available from Enterprise Ireland to help Covid-19 impacted businesses include:
• A €2,500 LEAN Business Continuity Voucher
• The Sustaining Enterprise Fund for Small Enterprises
For further information, please contact Enterprise Ireland Regional Office in Letterkenny on 074 91 69800 or by email on startup.borderregion@enterprise-ireland.com .

How well do you KnowYour5K? 15.05.20
A new initiative from the Heritage Council and National Museum of Ireland which invites you to share your discoveries and insights about the hidden heritage of your locality.
Due to Covid 19 we have all become much more familiar with our immediate locality. This can help us to see things in a new light by noticing what we may have overlooked before.
'Know Your 5K' is a new initiative from the Heritage Council and National Museum of Ireland which provides an opportunity to share discoveries about our hidden heritage. The project helps the public to use a wealth of online resources to find out more about the story of their locality.
You can find more information about KnowYour5k at www.ouririshheritage.org .
Burst water main in Greencastle 15.05.20
Irish Water and Donegal County Council wish to advise customers in Greencastle that their water supply has been impacted as a result of a burst water main. It is estimated that up to 500 properties may be affected by this unplanned outage in the Drumaweir area.
It is expected that the repairs will be completed by 4pm today.
Irish Water understands the inconvenience when a burst occurs and thanks customers for their patience while we work to repair the burst and restore normal supply to impacted customers.
The Irish Water customer care helpline is open 24/7 on 1850 278 278. For updates please see the water supply and services section of their website.
Irish Water repair burst water main in Urris 07.05.20
Irish Water wish to advise their customers in the Urris area that their water supply has been impacted as a result of a burst water main. It is estimated that up to 500 properties may be affected by this unplanned outage.
It is expected that the repairs will be completed by 4pm today.
The Irish Water customer care helpline is open 24/7 on 1850 278 278. For updates please see the water supply and services section of their website.
Irish Heart Foundation launches phone support service 30.04.20
A national phone support service to help newly discharged stroke survivors make the transition back home in the midst of the COVID-19 pandemic has been launched by the Irish Heart Foundation in conjunction with the HSE's National Stroke Programme.
The check-in service is a ground-breaking response to significant reductions in community supports for stroke survivors resulting from both illness and the redeployment of large numbers of healthcare professionals to help tackle the COVID-19 emergency, coupled with earlier than usual discharge of many patients from hospital.
The Irish Heart Foundation's nurse support line is open Monday to Friday between 9am and 5pm to take calls and emails from people living with heart disease and stroke and who are concerned about the coronavirus. Call 01 668 5001 or email support@irishheart.ie .
Asthma Society launches #CommunityCall 30.04.20
The Asthma Society of Ireland has launched a range of resources for the #CommunityCall initiative, including new asthma and COPD information booklets, FAQ videos and a newly developed webpage.
The #CommunityCall initiative, which was launched by the government earlier this month, will see local authorities, community and voluntary groups work together to ensure the most vulnerable people in society have everything they require to cocoon during the COVID-19 Coronavirus Pandemic.
The Asthma Society runs a free Asthma and COPD Adviceline on 1800 44 54 64. Callers can speak to a specialist nurse to get practical advice about managing their or their child's asthma triggers within the home.
Alzheimer Society National Helpline 29.04.20
The Alzheimer Society of Ireland's National Helpline is expanding with a new free call-back service which offers people with dementia and family carers from anywhere in Ireland the opportunity to book a 1:1 session with a Dementia Nurse or a Dementia Adviser during the COVID-19 public health emergency.
People with dementia and their family carers who want to avail of this new service please contact the National Helpline to make an appointment which is open six days a week Monday to Friday 10am–5pm and Saturday 10am–4pm on 1800 341 341. Email at helpline@alzheimer.ie or via Live Chat at www.alzheimer.ie .
How much do you know about your family's past? 27.04.20
Reach out to your family and become an amateur historian from home.
As a result of social distancing measures most of us are at home and separated from loved ones. Gathering family and local stories is one way we can feel closer. Donegal County Archives ask children and young people to reach out to grandparents or older people in the community who are confined to their homes. Download our questionnaire and advice sheet from the Donegal Archives website. Phone your grandparent and discuss one or two questions each day. Write down or record the interviews.
Resources are available on the Donegal County Archives website. These include interview questionnaires for children and adults and advice on carrying out interviews. There are also links to sources which will help you carry out family and local research.
Moville Community College magazine 16.04.20
Moville Community College has launched its 2020 school magazine. Due to the current COVID-19 containment measures, it's only available in digital format this year. Check it out here .

Driver licence Facebook scam 13.04.20
An Garda Siochana and the Road Safety Authority (RSA) would like to make the public aware of a scam which has been reported to Gardaí.
A fraudulent Facebook page purposing to be the National Driver Licence Service (NDLS) is inviting people to contact them via WhatsApp to apply for or renew their driving licence. They are then seeking payment of over €200.
This is a scam to part people with their money. The NDLS does not have any social media pages. The best way to contact the NDLS is through the official www.ndls.ie or www.rsa.ie website.
This fraudulent page has been reported to Facebook and investigations are ongoing.

Criminals target Netflix accounts 13.04.20
An Garda Síochána at the Garda National Economic Crime Bureau have become aware of a 'fraud' where criminals are trying to obtain the personal banking or credit details of Irish citizens under the guise of a request to update personal Netflix accounts with banking and/or credit card details.
This is a fake email and any financial information disclosed will be used to commit fraud offences, including account take over, where bank accounts are taken over and all funds withdrawn.
Detective Chief Superintendent Lordan of the Garda National Economic Crime Bureau, wishes to warn the public to never reveal their personal banking or credit card details in response to unsolicited emails, text messages, SMS messages or phone calls.
Where a person is concerned at contact from what appears to be a genuine entity such as Netflix or their Bank, they should look up that company independently and check with them if this is genuine.
Detective Chief Superintendent Lordan is also urging the public to stop and think before releasing any personal data to persons unknown and says if in doubt, don't do it.
COVID-19: Teagasc launch helpline for farmers 08.04.20
A new Teagasc helpline to assist farmers with queries in relation to the current COVID-19 challenge has been set up. It was announced by Professor Tom Kelly, Teagasc Director of Knowledge Transfer: "Teagasc have put in place a dedicated helpline for farmers to get advice on the range of issues that they may face as they continue to do their essential work in maintaining the food supply chain. This helpline is open to all farmers for a range of farming issues they face on a day to day basis."
The information helpline number is +353 76 1113533 and will be open from 9.30am to 12.30pm and from 2pm to 5pm Monday to Friday.
As usual, the Teagasc website www.teagasc.ie is a prime source of information on the full range of issues facing farm businesses. Teagasc clients should continue to use advisor mobiles and office numbers.
Foyle Ferry not running at Easter 31.03.20
In light of the COVID 19 situation and the restrictions already in place, Donegal County Council has agreed with the operators of the Foyle Ferry Service (Frazer Ferries Group) that the ferry between Greencastle and Magilligan will not be running over the upcoming Easter period. The provision of the service later in the year will be kept under review, in consultation with the company.
COVID-19 - RTÉ to air daily Mass from Letterkenny 19.03.20
In response to Covid-19-related restrictions on public gatherings, RTÉ will start, from Thursday 19th March, to air Mass every weekday at 10.30am from St Eunan's Cathedral, Letterkenny, on RTÉ News Now. The broadcasts will continue at least until 29th March, when current public health measures will be reviewed by the Government.
Mass will be followed each day by a short religious message from representatives of Ireland's other faith communities and Christian denominations.
COVID -19 - Information and posters 12.03.20
A checklist for business continuity planning has been updated in consultation with the HSE with specific references to COVID-19 and is available on the Local Enterprise Office website .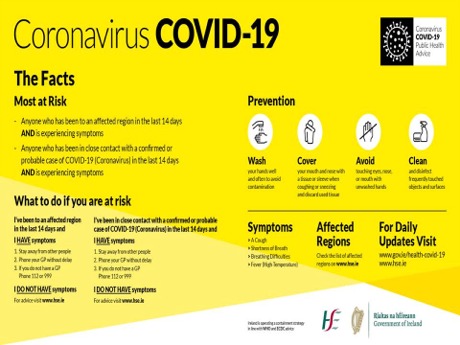 To access a copy of the COVID -19 Poster, click here .