Your free community news
If you wish to contact us regarding any of our news items please do so...
Email: linda@inishowennews.com
:: News In Brief
COVID-19 - RTÉ to air daily Mass from Letterkenny 19.03.20
In response to Covid-19-related restrictions on public gatherings, RTÉ will start, from Thursday 19th March, to air Mass every weekday at 10.30am from St Eunan's Cathedral, Letterkenny, on RTÉ News Now. The broadcasts will continue at least until 29th March, when current public health measures will be reviewed by the Government.
Mass will be followed each day by a short religious message from representatives of Ireland's other faith communities and Christian denominations.

COVID-19 - North West Simon Community 19.03.20
North West Simon Community have announced the closure of their office in Letterkenny in line with Government advice on Covid-19. The offices will remain closed until the Government advises otherwise. In the meantime, North West Simon Community's staff will continue to do their utmost to prevent and resolve homelessness in Donegal.
Anyone in need of assistance, or who knows somebody else in need of support, may complete a referral form through our website www.northwestsimon.ie . Our staff will seek to process any referral in the normal manner and as quickly as possible considering the present circumstances.

COVID-19 - Donegal Local Enterprise Office 19.03.20
In light of the most recent Government advice regarding COVID-19, all training courses, workshops and events have been postponed, effective from Friday 13th March 2020 until further notice.
During this period Donegal Local Enterprise offices will not be open to the public, or available for meetings. However, our local enterprise supports and services are available as usual and we welcome all enquiries by phone or email. Telephone: 074 91 60735 or Email: info@leo.donegalcoco.ie .
COVID -19 - Information and posters 12.03.20
A checklist for business continuity planning has been updated in consultation with the HSE with specific references to COVID-19 and is available on the Local Enterprise Office website .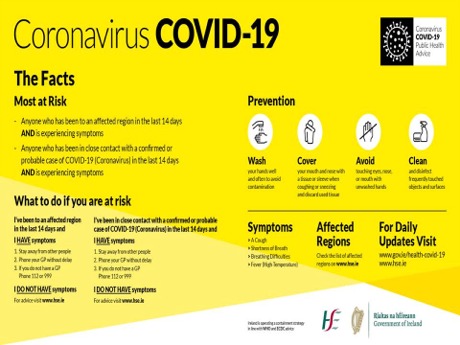 To access a copy of the COVID -19 Poster, click here .
COVID-19 - Greencastle Community Centre closure 12.03.20
Due to the announcement by the government this morning (12/03/20) as a result of the Coronavirus outbreak, and in the interest of the safety of staff, volunteers and centre users, the decision has been made by the Board of Directors to close the Greencastle Community Centre until further notice.
All upcoming activities and events have been cancelled and will be rescheduled at a later date.
Fatal road traffic collision in Ballyshannon 11.03.20
Gardaí are investigating a fatal traffic collision that occurred on the N15 in Laheen, Ballyshannon, Co Donegal at approximately 11.30pm on Tuesday, 10th March.
A 28 year-old male driver was pronounced dead at the scene following a collision between two cars. The female driver of the other car, aged 60, was taken to Sligo General Hospital with serious injuries. Three other passengers were also taken to Hospital but only as a precautionary measure.
A nearby car suffered material damage from the collision, but no injuries were caused to the occupants.
Investigating Gardaí are appealing for witnesses and are particularly appealing to those with camera footage (including dash cam) who were in the area around 11.30pm to make this available to them. Anyone who can assist with this investigation is asked to contact Ballyshannon Garda Station on 071 98 58530 or the Garda Confidential Line on 1800 666 111.
Storm Jorge: Status orange wind warning 28.02.20
MET Éireann has issued an Orange Wind Warning from 12 noon on Saturday, 29th February, until 3am on Sunday, 1st March, as a result of Storm Jorge. A status yellow rain warning is also in place for County Donegal during this period. Read more...
Update - Boy (11) hit by van dies 24.02.20
AN 11 year old boy seriously injured in a road traffic collision on Friday, 21st February, on Slavery Road, Tullyarvan, Buncrana was pronounced dead at the Royal Hospital in Belfast yesterday evening, Sunday 23rd February.
Investigating Gardaí continue to appeal for witnesses to this collision. Anyone who may have information regarding the collision should contact Buncrana Garda Station on 074 932 0540 or the Garda Confidential Line on 1800 666 111.
Boy (11) struck by van in Buncrana 22.02.20
GARDAÍ in Buncrana are appealing for witnesses following a collision involving a pedestrian and a van on Friday, 21st February, 2020.
At approximately 5.30pm an 11-year-old boy was seriously injured when he was struck by a van on Slavery Road, Tullyarvan. He was treated at the scene by emergency services personnel and removed by ambulance to Altnagelvin Hospital in Derry but has since been transferred to the Royal Hospital in Belfast. His condition is understood to be serious. The driver of the van, a man in his 50s was uninjured.
Gardaí are appealing to anyone who may have information regarding the collision, particularly any road users with camera footage who were travelling on the Slavery Road between 5.15pm and 5.45pm on 21st February to contact Buncrana Garda Station on 074 932 0540, the Garda Confidential Line on 1800 666 111 or any Garda Station.
Teen arrested after 54 hour standoff 24.02.20
AT 5.45pm on Wednesday, 19 February, Gardaí in Letterkenny responded to a domestic incident at a private dwelling. A male teenager had barricaded himself in a house and it was confirmed that he had access to firearms and ammunition. No other person was in the dwelling.
54 hours later, at 00.30am on Saturday, 22 February, the incident was resolved peacefully following a tactical intervention by the Garda Emergency Response Unit. No persons were injured during this operation and a shotgun was safely secured at the scene.
The male teenager was arrested and is currently detained at a local Garda Station where he is receiving medical assessment.